Construction begins with the interior "tunnel" which includes the cockpit area much of which is invisible when enclosed by the fuselage halves. All the sections should be painted before assembly begins including the overhead cranes and ladders to the upper passenger compartment.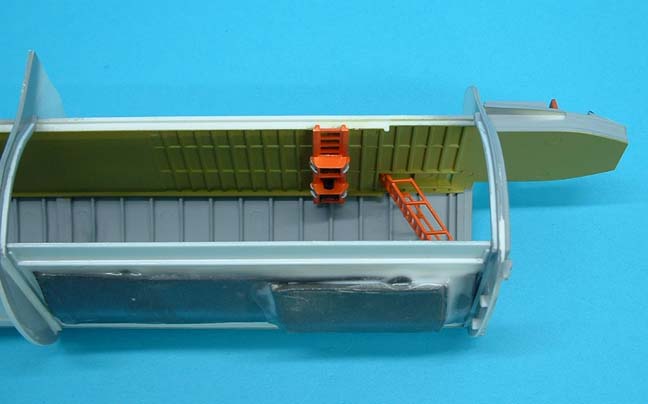 The structure is pretty strong when made up and it needs to be as there are 50 grams of weight needed to stop it being a tail sitter, I have used some left over lead sheet cut into a strip and fixed under the first bay with super glue then reinforced with wood glue, note the positions of the ladder and crane, the two cranes can be placed anywhere along the tracks and the ladders can be placed front or rear raised or lowered,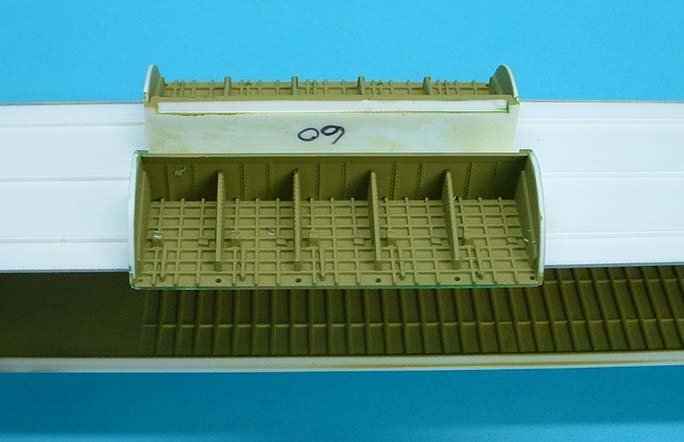 The next step is where you have to make up your mind whether you want the kneeling undercarriage or the normal one. Once the bays are made up and painted they can be cemented to the underside of the floor, I didn't follow the instructions to mount the legs here as I wanted to mask the wheel bays with the doors, they can be added much later after all the masking is off.
I added the rear walls ,parts 100/101 at this stage rather than waiting till the exterior was cemented on, it works quite well this way with no problems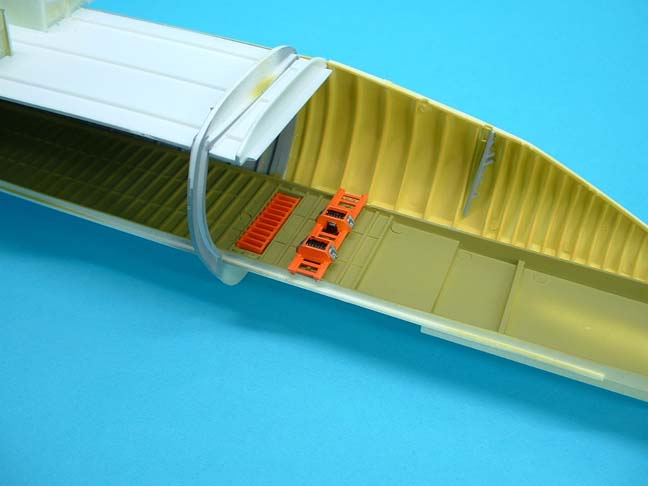 Make your mind up time again, a choice here for the nose to be lifted or lowered choose the appropriate parts and add them to the front edges of the fuselage halves. The two halves were then cemented together around the "tunnel" and the lower centre section added but I found this had a tendency to sit lower than it should leaving a step so I would advise using a few tabs of plasticard set along the edges of the main halves to keep it level and get over this. The whole unit was firmly taped and left over night to harden, the joins needed a light cleaning up next morning but very minor for a model of this size.